Hooray! One of My Favorite Roads...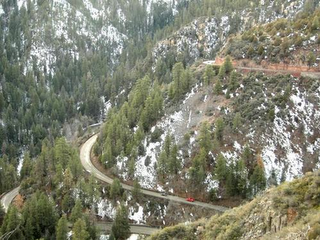 ... is now available on
Google Maps Street View
!
It's the switchback down the plateau on the way from
Flagstaff
to
Sedona, AZ
on
89-A
.
At the top, it's pines, cedars and scrub brush. At the bottom, it's cottonwoods, ferns and water . It's a drop of about 1,100 feet in less than 8 minutes of driving from 6,500 ft to 5,400 ft into
Sterling Canyon
alongside
Oak Creek
.
By the time you hit
Sedona
, you've gone down to 4,200 feet, so there's a marked difference in temperature and weather (like from snow to balmy sunshine in the winter) - all in 45 minutes travel time.
Be sure to click the forward arrows and stop to look around as you go along... Enjoy:
http://maps.google.com/?ie=UTF8&ll=35.032043,-111.73409&spn=0,359.988627&t=h&z=17&layer=c&cbll=35.032154,-111.734114&panoid=uYJHweDSMleC5zdwFpq_Ew&cbp=12,173.29986467016332,,0,5